12 May 2022
 | 
Exhibition
Forthcoming III
The artist's studio is often viewed as a methodological approach to a subject or as an artwork itself.
Text by: Athina Lasithiotaki
The way we chose the perceive the difference between the studio as a space or as an artwork is a matter of self- reflection, internal communication and an open dialogue between the artist, the artwork, and the viewer; thus the studio is initiating everlasting dialogues.
Curator Matthew Gale for his ongoing exhibition "Studio Practice" in Tate Modern, London writes: "For many artists, the studio is a place where they can shut out any distractions, allowing an intense focus of attention."1 Therefore, the studio as a place is establishing a conversation on artists' creative activities and knowledge production in a personal space. "Some choose their own studio as a subject or depict fellow-artists at work, bringing the private experience of art-making into the public space of the gallery." This openly intimate activity can often be preserved either in artist- run galleries functioning as studios or projected through the artist's work.
The preservation of an artist's studio and the intimacy of their work is interestingly introducing the case of "The atelier Brancusi: a work of art in its own right". Center Pompidou in the homonymous article highlights: "In the Twenties the studio became an exhibition space for his (Constantin Brancusi) work, and a work of art in its own right: a body consisting of cells that all generated each other."2 In the Twenties, the studio stopped being just a space, it became an energetically charged field, revoking knowledge and self- reflection.
The exhibition FORTHCOMING III, curated by Dionisis Christofilogiannis taking place in Space52 from April 28th to May 21st, 2022 is coming as a valuable addition to the exploration of the artists presenting the material traces of their work processes inside the studio, including sketches, sculptures, and artifacts, as a miniature of their self-directed work in progress.
The selected artists are contributing to the honoring of a new psychical space -Space52's new location or the forthcoming of a non-physical space in a variety of ways. To highlight the significance of the passing of time and the changes taking place in a studio, many of the contributing artists are opening conversations between the present and the collective or personal past. Nikos Sarlis is referencing antiquity through the weight of forms in space using visual illusions. P4 Architecture explores this theme even further, conjoining the Greek identity through architecture, along with Rene Habermacher who is exploring the borders of antiquity through her work too. Additionally, Socrates Fatouros is often recalling and referring to the value of personal memories when Helen Nymann explores the frigidity of memories in a technological world in her works.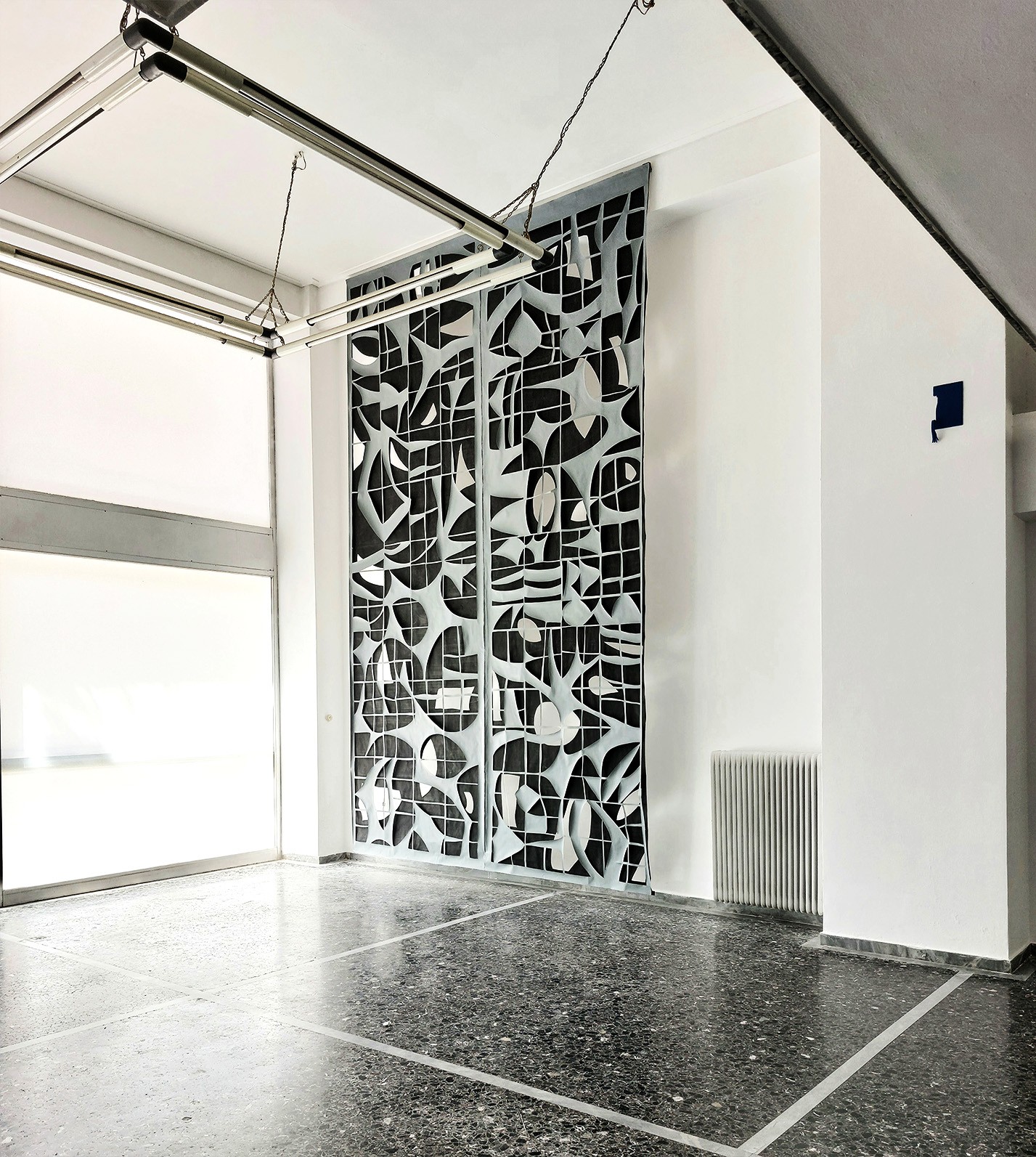 Installation View with works of Mathias Malling Mortensen and Socrates Fatouros
Personality, self-awareness and reflection become key components when referring to an artist's studio with the passing of time. These two components are noticeable in the works of many other contributing artists because most of their works are intimate and often provide a clear viewpoint to their psyche. Ioannis Dedes is describing how much weight the human touch carries on ready-mades, while Dionisis Christofilogiannis is initiating conversations on how this human touch can change the passing of time on them. Pantelis Vitaliotis-Magneto, is exploring uncharted waters to encounter the subconscious. Dealing with routes and fragments of life, Esmeralda Momferatou is also denoting to the personality of an artist's work. George Tserionis creates sculptures that deal with national or personal trauma and destruction. Ioanna Ralli explores the relationship of everyday people and ordinary things through a variety of materials. Apostolos Karakatsanis perceives painting as acting, making his work even more intimate and personal. Mary Zigouri projects raw sexualism using symbolism and paradox through work seen just as deeply intimate.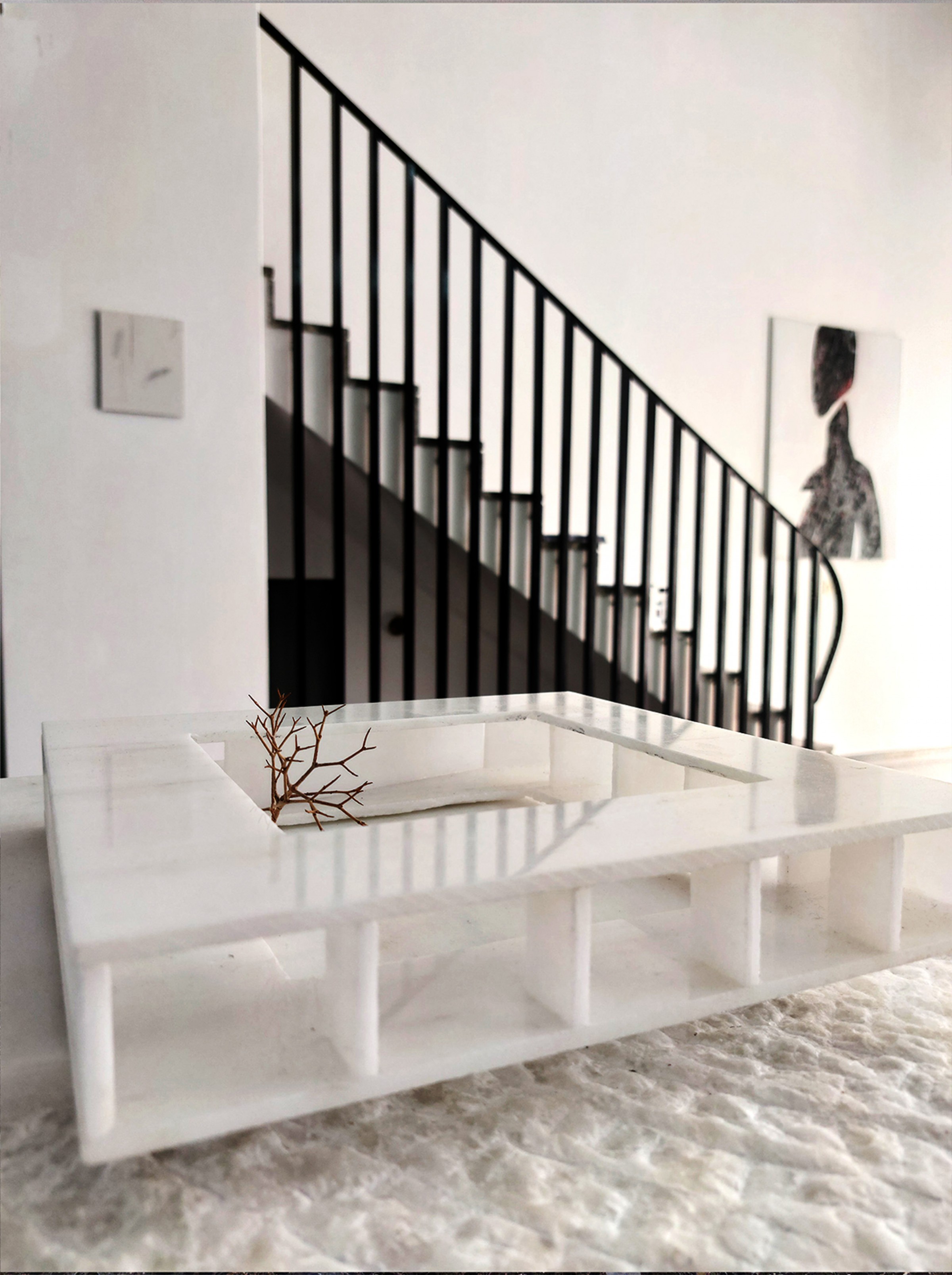 Installation View with works of Dionisis Christofilogiannis, P4 architecture and Pantelis Vitaliotis Magneto
The way artists will choose to approach a theme or a subject and the way they will communicate it, is something that is constantly discussed in their public or private studios. Mathias Malling Mortensen's work is heavily influenced by the way he interacts with and explores each subject. In Nikos Papadopoulos' work, the dot- painting technique is his way of perceiving movement and light. Melancholy, romanticism, and his relationship with Japanese landscapes are George Stamatakis' ways of exploring his topic, while Karolina Krasouli's way of interpreting her personal studio is through the combination of different fragments. Ilias Papailiakis and Nikomachi Karakostanoglou, approach antiquity through the art of ceramics while exploring a new visual language.
New languages, and more specifically the language of dancing is Andi Xhuma's methodology when approaching his topic. Written speech is probably the most essential visual language and often artists rely on it when creating. Lisa Harlev is using a simple visual language to communicate her work to the public. Combining the art of philosophy and language, George Kontis is exploring how new materials and relationships can approach a topic. Adonis Stoantzikis is perceiving time through not only written, but verbal speech as well when referencing his topic: the past, the present and the future.
FORTHCOMING III, is coming to mark the opening of the new Space52 and celebrate it as apart from an artist's studio as an artwork in its own right as well. The conversations of the past and the present, the contributing artist personality reflected through their works and their methodological approaches on the subject, express how FORTHCOMING III is not only an exhibition. FORTHCOMING III is the commemoration of the uniqueness of each artist's identity, as projected through their studios, through the dialogue with Dionisis Christofilogiannis and as a research project that examines the kinds of discussions that take place in spaces where artists create: their studios.
Sources:
1. Gale, Matthew. "Studio Practice – Display at Tate Modern." Tate. https://www.tate.org.uk/visit/tate-modern/display/in-the-studio/studio-practice.
2. "Brancusi's Studio." Centre Pompidou. Https ://www.centrepompidou.fr/en/collections/brancusis-studio.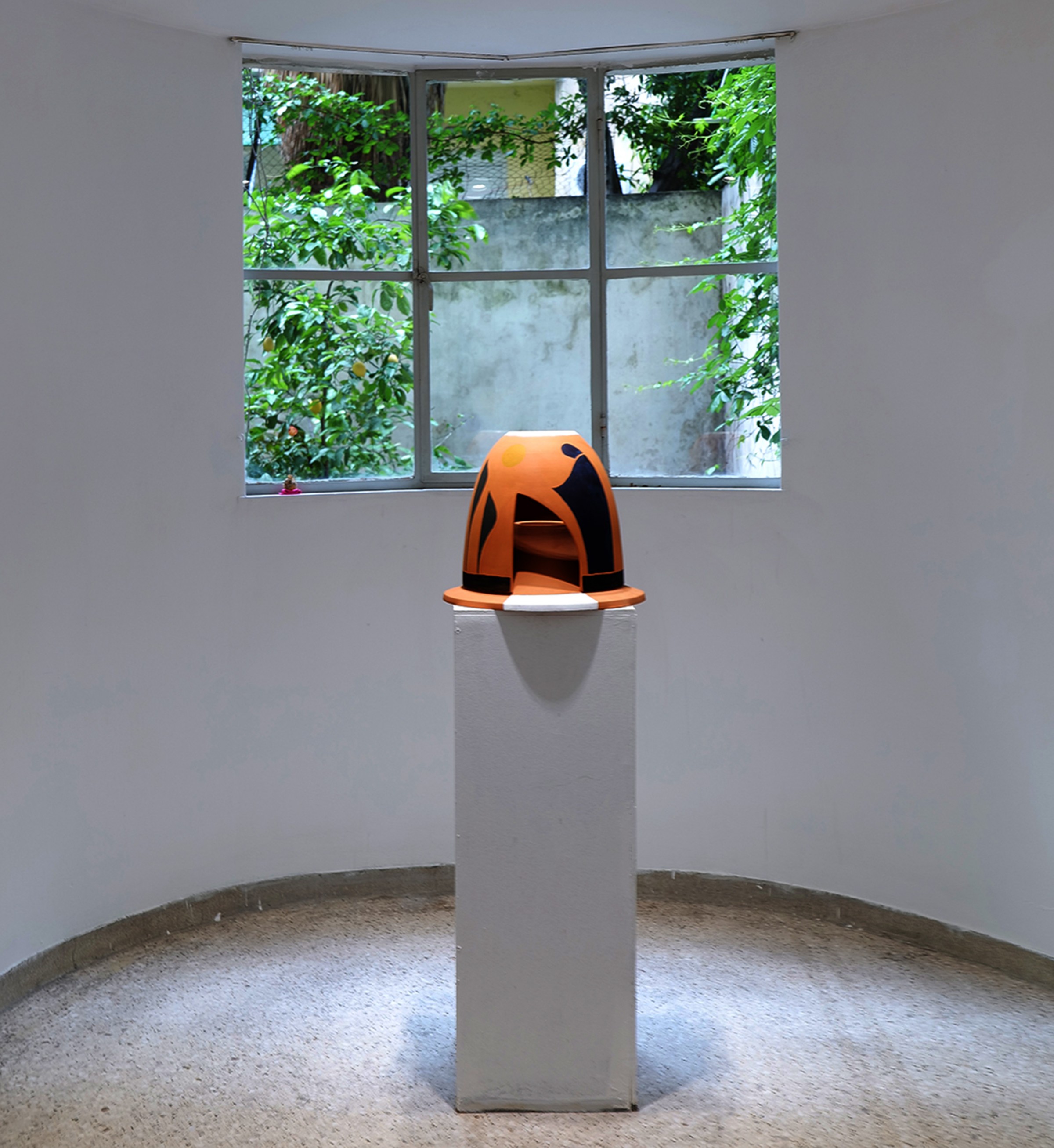 Installation View with works of Ilias Papailiakis & Niκomachi Karakostanoglou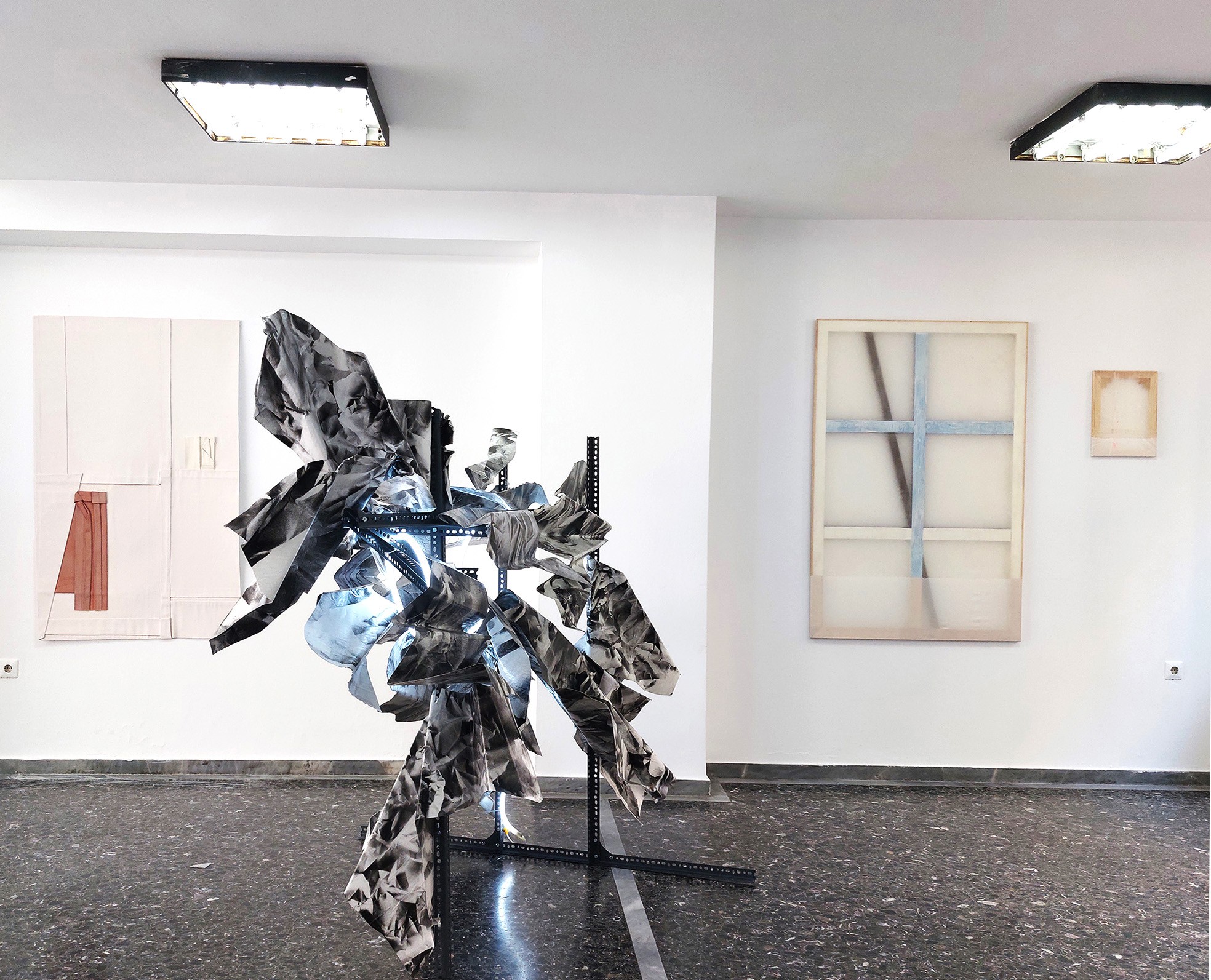 Installation View with works of ­­­­ Karolina Krasouli, Nikos Sarlis and Giorgos Kontis.
Forthcoming III
Space52
Larnakos 28, 104 46, Athens
28th April – 21st May
Opening Reception: 28th April, 19:00-22:00
Opening hours: WED, THU, FRI 5-8pm and by appointment (info@space52.gr)
Curator: Dionisis Christofilogiannis
Research Assistant: Athina Lasithiotaki
Catalogue/Poster: Pantelis Vitaliotis – Magneto
Residency Coordinator/Liaison: Ariana Kalliga
Artists: Dionisis Christofilogiannis, Ioannis Dedes, Rene Habermacher, Socrates Fatouros, Lise Harlev, Niκomachi Karakostanoglou, P4 architecture, Nikos Papadopoulos, Ilias Papailiakis, Nikos Sarlis, George Stamatakis, Giorgos Tserionis, Apostolos Karakatsanis, Giorgos Kontis, Karolina Krasouli, Esmeralda Momferratou, Mathias Malling Mortensen, Helene Nymann, Pantelis Vitaliotis – Magneto, Ioanna Ralli, Adonis Stoantzikis, Andi Xhuma, Mary Zygouri
Organized by The Danish Institute at Athens and Space 52
Supported by Ministry of Foreign Affairs of Denmark and Ministry of Culture of Denmark
Tags
Προτεινόμενα Άρθρα